About Hiflux
We will become a company that thinks of customers first, and a company that customers are proud of first.
HIFLUX OVERVIEW
HIFLUX is 'Service, Quality, Performance' based on three core values, The best teamwork and a proactive attitude to our customers to provide the best services.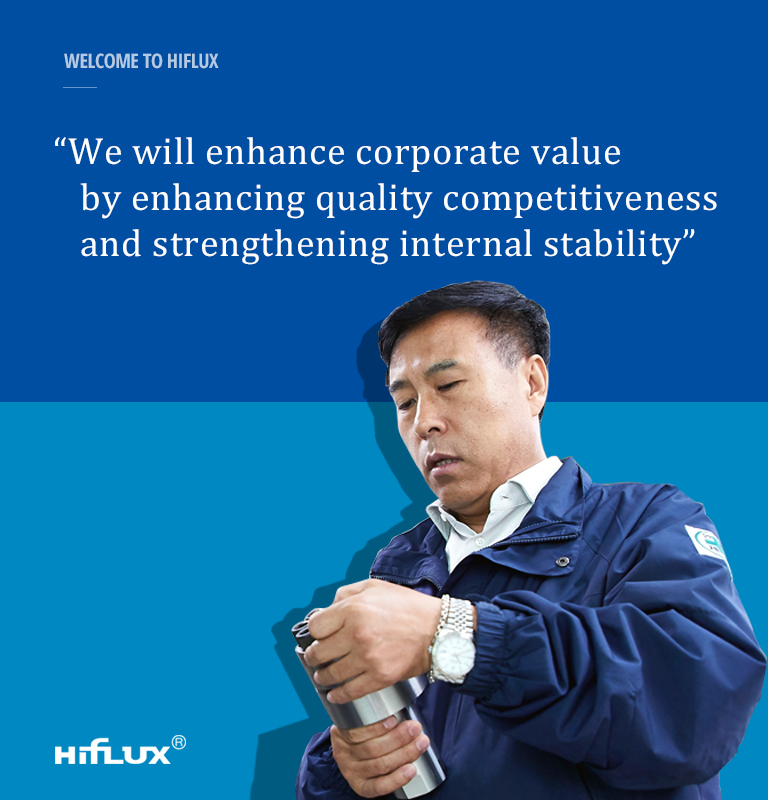 HIFLUX, the future of ultra-high pressure.
Our company promises you that it will continue to expand technical innovation with consistent research development and significant investment in plant and equipment in order to become a global leader in the field of high pressure technology.

The market for high pressure equipment in Korea was very poor at the time of our establishment. Most of Technologies - such as the design, equipment and manufacture of high pressure equipment were from other countries and only some lower grade technologies were manufactured in korea.

Our company has been heavily involved in localizing this technology in korea and finding new markets and it has developed this kind of technology remarkably well thanks to consistent research development and investment in plant and equipment. Based on our belief that innovation in techniques can contribute to creating value for customers, we have created a needle valve and check valve that is world-class through innovation and renovation and we also supply quality services in an efficient and punctual manner. In addition, our products can be mass produced at production facilities in various industries as the AOV(air operated valve) and HPR(high pressure regulator) have been developed for low and high pressure purposes, and the BPR(back pressure regulator) and other various fitting and accessories have been developed to tap into new markets. We will do our best to become 'HIFLUX' a company that listens carefully to customers and consistently improves products and service and contributes to enhancing quality and productivity in order to develop and grow together with our customers.




Overview
| | | | |
| --- | --- | --- | --- |
| Company Name | HIFLUX Co., Ltd. | CEO | Kim Hyeon Hyo |
| Date of Establishment | May 26, 2010 | Business Area | High Presure Valves, Hydraulic Equipment, Pumps |
| Address | (34037) Da Dong, 361-33, Gapcheon-ro, Yuseong-gu, Daejeon, Republic of Korea | Tel | +82-42-602-8093 |
| E-mail | Technical Sales Dept : - Domestic Sales : leesun@hiflux.com - Overseas Sale : th@hiflux.com Promotion Dept : min@hiflux.com | Product | Needle Valve, Check Valve, Ball Valve, Relief Valve, Air Operated Valve, High-Temp Valve, Control Valve, Fitting, Fitting Accessory, Tube, Nipple, Regulator, Union, Adapter, Tube Support, Radiating Pipe, Pressure Gauge, Tooling Set,Lok Type Products |
| | |
| --- | --- |
| Company Name | HIFLUX Co., Ltd. |
| CEO | Kim Hyeon Hyo |
| Date of Establishment | May 26, 2010 |
| Business Area | High Presure Valves, Hydraulic Equipment, Pumps |
| Address | (34037) Da Dong, 361-33, Gapcheon-ro, Yuseong-gu, Daejeon, Republic of Korea |
| Tel | +82-42-602-8093 |
| E-mail | Technical Sales Dept : - Domestic Sales : leesun@hiflux.com - Overseas Sale : th@hiflux.com Promotion Dept : min@hiflux.com |
| Product | Needle Valve, Check Valve, Ball Valve, Relief Valve, Air Operated Valve, High-Temp Valve, Control Valve, Fitting, Fitting Accessory, Tube, Nipple, Regulator, Union, Adapter, Tube Support, Radiating Pipe, Pressure Gauge, Tooling Set,Lok Type Products |
Organization
| | | |
| --- | --- | --- |
| 01. Sales | [New customer acquisition] Equipment manufacturers seeking, Continuously company PR, Customer relationship management | Tel : 042-933-5670(No.1), e-mail : 국내 leesun@hiflux.com / 해외 th@hiflux.com |
| 02. Design | [For a user-friendly design] High quality material supply with cost reduction, contribute to the improve productivity | Tel : 042-933-5670(No.2), e-mail : ljg@hiflux.com |
| 03. Promotion | [PR contents enhancing] Pursue cost savings & efficiency, reflect improvements in the design, development of differentiated products | Tel : 042-933-5670(No.3), e-mail : min@hiflux.com |
| 04. Material | [Supply of good quality component] High quality material supply with cost reduction, contribute to the improve productivity | Tel : 042-933-5670(No.4), e-mail : hesj@hiflux.com |
| 05. Assembly | [Product quality upgrade] Minimize product defects, Thorough factory inspection, Quick delivery | Tel : 042-933-5670(No.5), e-mail : set80@hiflux.com |
01. Sales
[New customer acquisition] Equipment manufacturers seeking, Continuously company PR, Customer relationship management
Tel : 042-933-5670(No.1), e-mail : 국내영업 leesun@hiflux.com / 해외영업 th@hiflux.com
02. Design
[For a user-friendly design] High quality material supply with cost reduction, contribute to the improve productivity
Tel : 042-933-5670(No.2), e-mail : ljg@hiflux.com
03. Promotion
[PR contents enhancing] Catalog, web, contents, Information quality upgrade
Tel : 042-933-5670(No.3), e-mail : min@hiflux.com
04. Material
[Supply of good quality component] High quality material supply with cost reduction, contribute to the improve productivity
Tel : 042-933-5670(No.4), e-mail : hesj@hiflux.com
05. Assembly
[Product quality upgrade] Minimize product defects, Thorough factory inspection, Quick delivery
Tel : 042-933-5670(No.5), e-mail : set80@hiflux.com